Top Recommended Cat Products
These are the products I use for my cats every day. After 30+ years of experience, these are the products I have found to be superior in effectiveness, value and ease of use. My cats agree! These are my top recommended cat products which are all available on Amazon.com. Just click the images to shop, or click the links to read my reviews.
My Favorite Cat Foods
The Purina Beyond line is superior in nutrition, value and has grain free options. Real meat or fish is the first ingredient and there is no by-product meal or random fillers.
I feed my cats Purina Beyond Indoor Grain Free with Salmon, Egg and Sweet Potato. My cat is throwing up much less on this food and it does not cause diarrhea which is a problem for him on many other foods. All four of my cats including short haired, long haired, male, female, older and adult cats love this food. Finding one food that works for all four is difficult.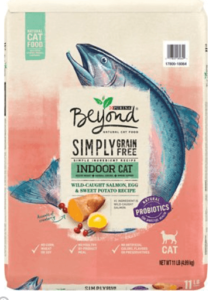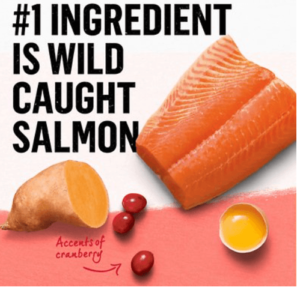 Purina Beyond Simply Grain Free Cat Foods 
There are many great varieties in the Purina Beyond lineup including salmon, whitefish, chicken and turkey based foods.
Here is my favorite cat food brand. Whole Earth Farms line of cat foods including grain free, wet canned and dry foods are all superior with real meat and limited ingredient foods. This beef variety worked for one of my cats when nothing else did. This brand's food is also less expensive than other high quality brands!
Whole Earth Farms Grain Free, Affordable Cat Food!
My Favorite Cat Litter
Click here to check out all Okocat brand litters in regular, clumping and more. Pine based, naturally anti-bacterial, odor controlling and light weight. Check out my reviews for best odor control litters, and Okocat litter review.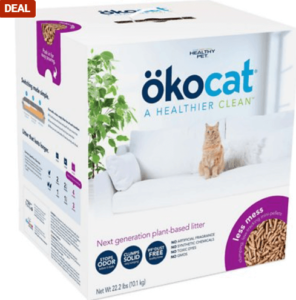 My Favorite Cat Anxiety Products to fix Skittish Behavior and Peeing Outside the Box
These products have saved our house and marriage! My last rescued boy was a nervous wreck until we found these and we use them every day. He is now a dream of a cat! Check out my story with these products here. How to Calm Down a Cat, Products for Cat Peeing Outside the Box. This post includes review of a testing product for UTIs and other urinary issues.
                             
Safe Space for Cats Drops,               Sentry Calming Collar
apply to fur.
My Favorite Home Remedy for Cats
Dilute with water and apply to fur for
Sneezing and Ear and Eye Infections
associated with upper respiratory infection.
Read my post here: Cat Sneezing Remedies
My Favorite Supplements for Dogs and Cats
These products are amazing and inspired the creation of this site. Made for cats and dogs alike and used for other mammals too!
For Tooth and Gum Disease and Bad Breath                      For Immunity and Overall Health Support
Read my posts on these life changing supplements for cats and dogs. For Gum and Tooth Supplement:  Revolutionary Supplement That Keeps Dog and Cat Teeth Clean. For Immunity and Liver Support Supplement:  How To Treat An Upper Respiratory Infection In Cats.
My Favorite Over the Counter Treatments
For Vomiting Due to Acid Indigestion in Cats.
Consult veterinarian and read my post:  Remedy for Cat Vomiting. Don't use Pepcid Complete or Maximum Strength. These have ingredients cats can't have!
For Constipation in Cats.
Consult veterinarian and read my post:  Treating Cat Constipation at Home
My Favorite Cat Tree
Give your cat exercise, fun, and a safe feeling perch, as well as 10 scratching posts with this large, affordable cat tree! It is the best I have found at a reasonable price.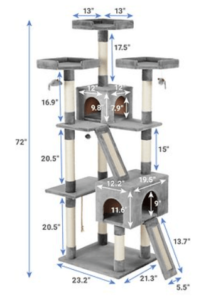 Frisco 72 Inch Cat Tree and Condo
Here is my review, Tall Cat Tree Houses , with features listed and my experience with it. This is the best and largest cat tree at an affordable price that I have found. I love this thing.
My Favorite Cleaning Products
To find cat pee use this great black light with a specific wavelength built just for this purpose. Also find other organic stains all around your house as well as bed bugs, scorpions and more!
Then clean it up with Nature's Miracle cleaning products. They have enzymes specifically for destroying cat urine. Follow the directions though,    just spraying on and wiping up will not work! Read my steps to clean up cat urine with advice for laundry, carpet and more.
3. For powerful, natural cleaning power, try borax.
My Favorite Cat Puzzle Feeder to Help Cats Eat Less and Lose Weight
Overeating is the most common cause for cat's gaining weight. Prevent many serious health problems by controlling how much food your cat eats. This is hard since cats need to access small meals throughout the day for optimum health. Solve the problem with a puzzle feeder. Your cat will have access to food even when you are away from home but they will have to eat slowly and can't gobble down the whole bowl in one sitting. This also reduces throwing up if they are eating too fast. You can read my review of this product and how it compares to other more expensive puzzle feeders.
This is a dog bowl but I use it for my 4 cats since it holds enough food to last for several days. There are smaller versions available.
Please leave me a comment with any questions or comments about my top recommended cat products!
Jessica
Thriving Cat only offers honest reviews and never recommends a product we wouldn't use ourselves everyday.  Thriving Cat makes use of affiliate relationships with merchants such as Chewy.com and PetCo.com for monetization. This means when you click on links to various merchants on this site and make a purchase, this can result in a small commission that is credited to this site.