This Revolutionary Supplement Keeps Your Pet's Teeth Clean Without Brushing
Most pets get tooth and gum disease.
Build up of plaque can cause tooth decay and gum disease in cats and dogs. This is likely occurring in your pets already if they have bad breath! It is extremely common. According to PetMD over 80% of pets over three years old get gingivitis.
Finally, a better option for cleaning pet's teeth!
Most of us are only aware of two options for keeping our pet's teeth clean. Those two options are expensive visits to the vet for cleaning under anesthesia or attempting to brush your pet's teeth yourself or adding something to their water. Brushing at home can work but most pet parents (myself included) find it very difficult to keep up with especially if you have multiple pets! It can also be very difficult to accomplish if your pet didn't get used to it from an early age. There are treats and water additives that claim to clean pet's teeth but they are not enough to really get the job done. I don't want to add anything to my cat's water which may discourage them from drinking either.
After many painful cleaning sessions and tooth extractions for my cat I finally found something better. It actually works and now my veterinarian recommends it to everyone! I want to let people know about this since is so wonderful to have a solution to this chronic problem! I would like to share this revolutionary supplement that keeps dog and cat teeth clean.
PetAlive Gumz-n-Teeth
This supplement is made by the PetAlive brand and is made for both cats and dogs. It is called "Gumz-n-Teeth" and is made from all-natural ingredients such as silica and horsetail. It comes in capsule form. I twist the capsules apart and mix the powder into wet cat food twice per day.
You can purchase Gumz-n-Teeth on Chewy.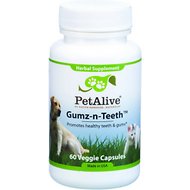 Some breeds are prone to tooth and gum disease regardless of food.
Some cats and dogs are more prone to tooth and gum disease. For example, orange tabbies like my boy are genetically prone to this awful condition. I say awful because he had such bad teeth he needed cleaning under anesthesia every year, had horrible breath and was getting teeth extracted each year as well! He was only 3-5 years old and I was afraid he would end up with no teeth left in a few years. The last time he had dental work done it was also very expensive. You will save money with this supplement! It is cheaper to give this to your cat every day than to have cleanings and extractions.
I decided I needed to find something better for my poor boy. After the last cleaning (which was almost three years ago!) I started giving him Gumz-n-Teeth mixed into his food every day. He has not had bad breath and has not needed tooth cleaning or extractions. This supplement has truly been miraculous for us and it works so well my veterinarian at Alaska Veterinary Clinic recommends it to her other pet parents!
Here are some of the great, all-natural ingredients:
Spirulina
Horsetail (herb)
Dandelion (leaf)
Silica
The bottle has dosage instructions for dogs and cats based on body weight. How handy is that, the same supplement can treat your dog's and cat's oral health and bad breath! If your pet's teeth and gums are very bad you may still need to take them to the vet, but once they are checked out, start them on this amazing product.
Save hundreds of dollars and eliminate risk of anesthesia.
Please try Gumz-n-Teeth. It is under $20 when on sale and will last one cat for 4 to 5 months! That works out to 50$ to 60$ per year. That is much cheaper than the $750 we spent per year for tooth cleaning and extractions at the vet!! Now, just a few years later it would cost $1200 for the same procedure! You could get that vet service cheaper in some cases. For example we did optional blood work ahead of time to make sure he would not be at additional risk from anesthesia. However, that is pretty important and I think it was only about $60. Even if you did no blood work and your cat only had tooth cleaning rather than extractions, it will probably still cost hundreds of dollars! There is also the danger of putting cats under anesthesia. Especially as they get older, this gets increasingly risky and vets advise against it unless absolutely necessary. The alternative of not cleaning your pet's teeth is also dangerous. Tooth and gum disease can lead to deadly infections and diseases. I hope you will check it out. It is a revolutionary supplement that keeps your dog's or cat's teeth clean, saves you money and keeps your pet healthy.
PetAlive also makes other amazing supplements such as Immunity and Liver Support which prevents upper respiratory infections in cats! This is another very common health condition especially in cats that have been in a shelter. It is highly contagious and cats will pass it around continually. If your cat gets goopy eyes, itchy ears, red eyelids or is sneezing, they probably have an upper respiratory infection. Our kitties went back and forth to the vet for a long time before I found Immunity and Liver Support. Here is a link to my review of this great product.
If you want to read about my home remedy for upper respiratory infections in cats, read this post.
If you have any questions or thoughts, please leave a comment. I look forward to hearing from you.
Jessica
 Thriving Cat only offers honest reviews and never recommends a product we wouldn't use ourselves everyday.  Thriving Cat makes use of affiliate relationships with merchants such as Amazon Associates for monetization. This means when you click on links to various merchants on this site and make a purchase, this can result in a small commission that is credited to this site.