Tall Cat Tree Houses
Do you want a tall cat tree but don't want to spend hundreds of dollars? Here is a sturdy, tall cat tree house at an affordable price! A tall cat tree is beneficial for cats giving them a sense of security as well as a place to play and get exercise. I was amazed at how expensive cat trees are in stores so I was thrilled to find one with thousands of perfect reviews at a low price! A Go Pet Club Cat Tree was the best I found and my cats all love it! This is the best tall cat tree house on the market today at an affordable price. It is an Amazon's Choice product, very popular with customers and is now being sold by other companies. Now Chewy.com has the same cat tree that is identical except for the extent of the sisal rope vs. fabric on each post, the style of the ramps and the type of the dangling cat toys.  It is called the Frisco 72 Inch Faux Fur Cat Tree and Condo. The dimensions, layout and materials are the same but Chewy has created ""Frisco as it's own in-house marketed brand to produce these pet products. There are 10,651 reviews of this cat tree on Chewy! 90% of those 10,651 reviews give it 5 out of 5 stars and 98% of reviewers would recommend it.  I truly believe this is the best valued tall cat tree you can buy.
While other companies charge much more for certain colors, Chewy charges the same low price for all colors and patterns! You can get whatever color you want to fit your home without paying a premium.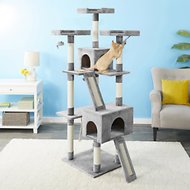 As of January 2021, this cat tree is available in grey shown here, in tan in my photo above, blue, black, brown and this gorgeous cheetah print!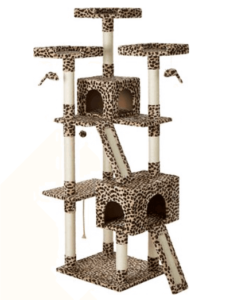 Frisco 72 Inch Faux Fur Cat Tree and Condo
This Frisco cat tree is about 6 feet tall with 10 scratching posts, two apartments, three platforms at the top as well as dangling toys and ramps. I have been very surprised how well this cat tree house has stood up to my 4 cats. Two of my cats are 15 pound rambunctious boys who roughhouse and tear up and down the tree.
Even the dangling toys are still attached over a year later! That is impressive! The apartments and platforms are covered in carpet and the posts are covered in sisal rope which is the favorite cat scratching post material. Having this large cat tree with 10 scratching posts built in has kept my cats from most all scratching on other surfaces around the house. The cat tree is like a grand scratching post land with so many options!
What Kind of Cat Could Use the
Frisco 72 Inch Cat Tree and Condo

?

A tall cat tree is beneficial for cats giving them a sense of security as well as a place to play and get exercise. I was amazed at how expensive cat trees are in stores so I was thrilled to find one that is tall, sturdy and affordable! This is not the most cushy cat tree. There are brands with fancy, padded platforms and beds,. If you have a cat with sore joints that needs extra padding then you may want to add padding or get a different model, but for most cats, the fleecy carpet covering is enough. This is a good cat tree for active, energetic cats, large cats and those that need a tall tree for exercise or a high vantage point.  My boys especially like laying on the top platforms and watching birds out the window.

If you want to buy a cat tree you will pay at least $300 for a cat tree this large. Many stores don't offer a cat tree with this many platforms and options. For closer to $70-$80 (depending on color and model) you can get a higher quality, tall cat tree with more options for your cat to get exercise, sleep and feel safe. Sometimes different colors go on sale.

There are other sizes and configurations by the same brand in case you want something smaller, larger or any other shape or size.

Click here to look at dozens of other Frisco cat tree styles.
Downsides of This Cat Tree
My cats don't use the ladders/ramps but they can be easily removed. If you had kittens however, the ramps may be necessary or get used more at least. There is not a lot of padding on the platforms, just the fleece carpet. These are not problems for me and my cats. They love this tree just the way it is and I love the low price and the fact that it has held up for years now.
Benefits of This Cat Tree
It is affordable and a much better deal than most cat trees available!
It is tall at 6 feet! This height is great since you get more play and exercise space without taking up more floor space.
It is sturdy and has held up well with my four cats.
It is large enough for even large cats to get some exercise and have room to play.
It is nice looking and my cats all love it.
It has 10 scratching posts and provides a forest of scratching options for my kitties!
You can get this with free shipping on Amazon Prime.
It has held up for several years of use by 4 cats.
Is This Cat Tree Stable?
You might wonder if this cat tree is stable since it is so tall. I wondered the same thing! I am happy to report it is very stable! It has never tipped over even though my large boys run up and down and play fight on it! Don't let stability be a concern here the Frisco 72 Inch Cat Tree and Condo is very stable. It has a nice, large base and 4 posts on each corner so there is no central post that is unstable. My cats have used it for years and it has never tipped at all.
Cat Furniture
If you want a wall mounted cat play area that takes up no wall space, I recommend this innovative mix and match system from CatastrophiCreations. If you want a sturdy window mounted perch or other cat furniture, please check out my Cat Furniture for Apartments post.
Other Recommended Cat Products
If you want to see my top recommendations for food, supplements cleaning and more, please click here, Top Recommended Cat Products. If you have any ideas or questions about tall cat tree houses, please leave a comment below!
Jessica
Thriving Cat makes use of affiliate relationships with merchants such as Chewy.com for monetization. This means when you click on links to various merchants on this site and make a purchase, this can result in a small commission that is credited to this site. This does not affect purchase price and you will not pay a penny more.