What are the best cat litter brands? How does the World's Best brand stack up? Here are my best rated cat litters.
You may have heard of "World's Best" brand cat litter. I have just used World's Best Multiple Cat Clumping Formula for several weeks and here is my opinion. It is a good litter, it has some great features. It is not my favorite however. Read on to see the pros and cons of World's Best and see my best rated cat litter which is even better.
World's Best shares some features with other natural brands of cat litter.
They are:
Natural, safe for your cat, lightweight, and don't contain chemicals or perfumes.
World's Best is also very low in dust which is great. It claims to be 99% dust free.
It is also good for reducing the amount of litter tracked out of the box.
It is easier to scoop than other natural brands since the granules are small and don't get caught in the scoop.
However, there are two features of my favorite cat litter that this brand does not have and they are very, very important!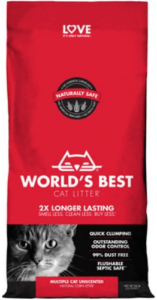 My Top Recommendation for Litter is

Okocat

Brand.
Okocat comes in a variety of types including the regular Natural Pine which we use, and one specifically for long-haired breeds. It comes in 3 sizes also. For the best value get the large size. They all ship for free in the U.S. with Amazon Prime.
Why is

Okocat

 Brand Litter Superior?
My favorite and best rated cat litter is Okocat. So what does Okocat have that other natural brands do not?
Okocat has natural ODOR CONTROL. World's Best didn't do well at controlling odors!
Okocat is also naturally antibacterial!!! That is a great plus. It is also antifungal and antiviral!!
World's Best is good at clumping for a natural litter and the low dust is great. It is even slightly less dusty than Okocat. Okocat has three varieties of clumping litter too!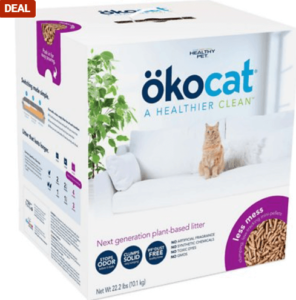 I want all the benefits of natural litter such as being healthy for my cat and lightweight. I also want the best litter I can find for the price and Okocat delivers all that. For odor control and antibacterial properties I choose Okocat as my best rated cat litter. I like World's Best for scoopability and dust control however so you may want to try both and see which works for you.
Let me know what you think. Leave a comment.
Jessica