How To Calm Down a Cat
Two Products and Some Simple Home Improvements
There are many reasons a cat could be anxious, stressed, defensive or misbehave. Most behavior problems come back to anxiety. I have a cat who suffered from bad anxiety after we rescued him and he needed some serious help! I can show you exactly what we use to allow him to be a perfect cat!
Rescued cats often get anxiety due to fear or confusion at the total change in their world. They may have been mistreated in the past, but we will never know. If your cat pees outside the box, bites, growls, is jumpy or grumpy, check out these solutions. My cat did all of the above!
There are some simple changes you can make your cats living space so they feel safe and secure. You can also use these two amazing products that saved our cat and our house! These are Safe Space for Cats Drops by Jackson Galaxy and Sentry Calming Collars.
Safe Space for Cats Drops
If you have watched Jackson Galaxy's TV show My Cat From Hell, you know there is hardly a cat out there that he can't help. No matter how angry, aggressive and destructive, he is the cat whisperer and can calm them down by making them feel safe and secure. These drops are one of his secrets. They are applied on the fur. We use them twice per day and use a bit more than recommended, but it works and then we don't need to use them more often as recommended on the bottle.
When we rub these drops into our kitties fur around his head and shoulders, he instantly calms down. It is pretty amazing. I cannot imagine life without these drops! Seriously. Try them today!
My boy is a hard case however, he needs both the drops and these pheromone mimicking collars to be happy. So, he wears the collar all the time as well as getting the drops twice per day.
Sentry Calming Collars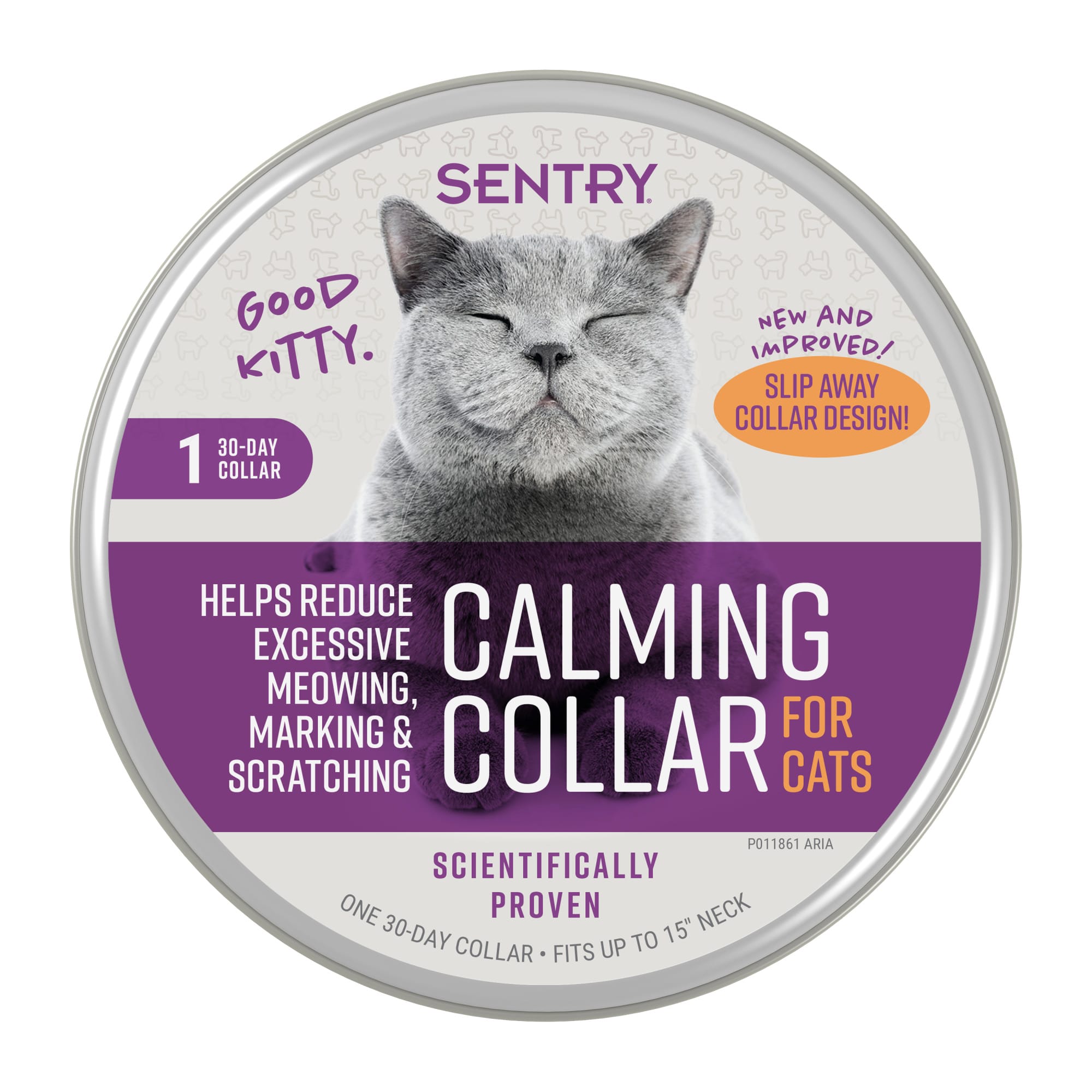 Pheromone mimicking products like these collars are very effective. They mimic the smell of the mother cat which calms all our kitties. All we smell is the lavender scent that is added. The smell can be pretty strong for the first few days but it wears off slowly over time. There is also an annoying white powder that coats the collars when they are new but that is supposed to be there. I brush the excess off before I put it on him.
These work. When the pheromones start to wear off after about 3 weeks, my boy get jumpy and anxious once again and may start peeing around the house! The convenient 3 pack box is super affordable too! It works out to only about $2-$3 per month.
The collar can be cut to adjust to any neck size.
NOTE: Make sure you have the collar adjusted to the right length. It should not be tight, but it also can't be so lose the cat can get it's lower jaw stuck in it. Some cats will try to chew it off and end up getting it stuck in their mouth between their jaws if it is too loose. This only happened once, briefly, then I learned I needed to be more careful. You should be able to fit a few fingers under it but it should not be loose.
Diffusers
You can also get Sentry and Comfort brand diffusers which plug in just like an air freshener. I started with those but prefer the collars now. They work the same way with the smell containing the pheromone mimicking ingredients. They end up being more expensive however. If you had many cats you needed to treat all at once this might make more sense but you are supposed to have multiple diffusers throughout your home depending on it's size.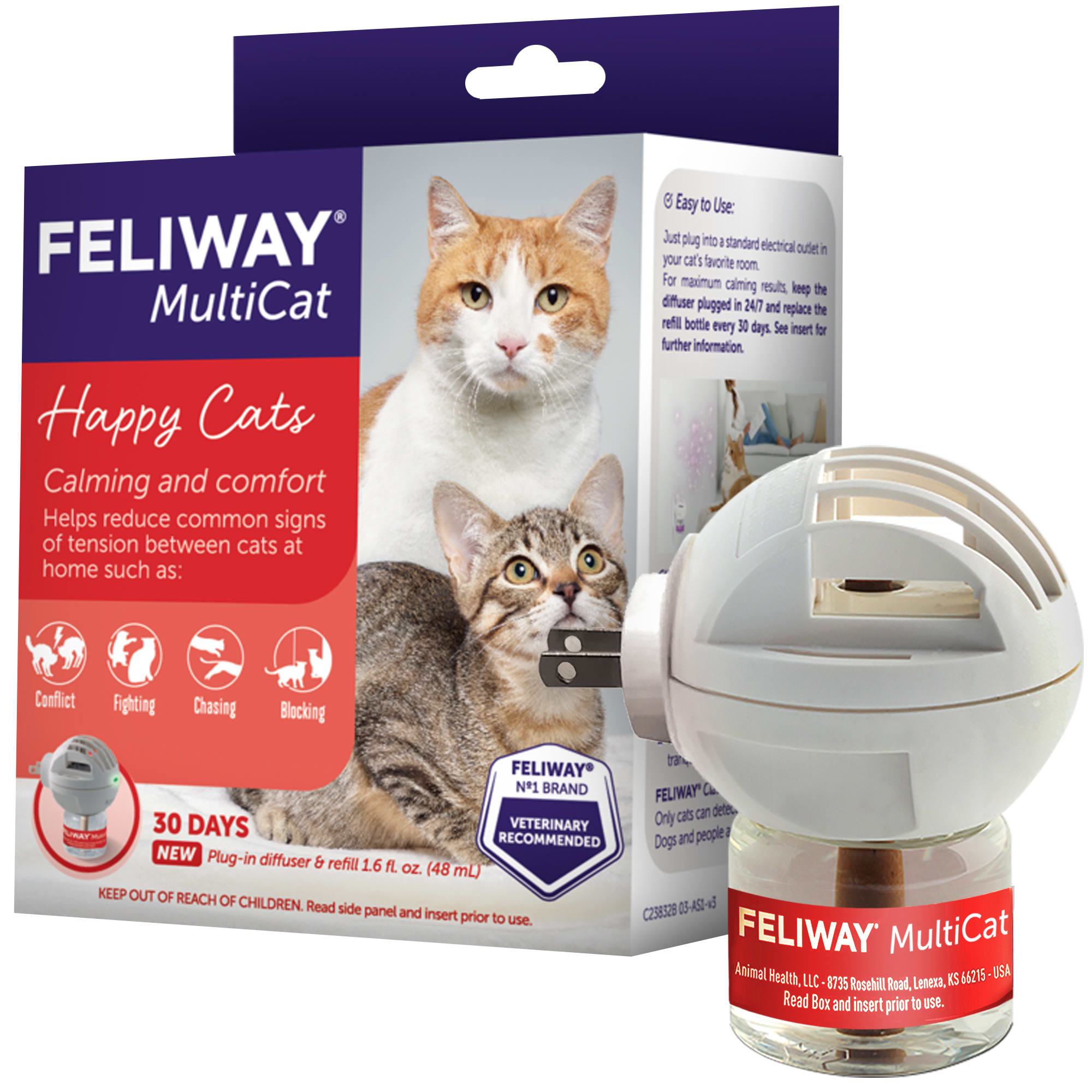 Give Your Cat Safe Places at Home to Feel Secure
The most basic way you can make your cat feel secure and reduce anxiety is to give him places that feel safe at home. Cats love to be up high so a good cat tree is essential. It gives them both a safe place to hang out and some play space and exercise. Cat trees can cost a fortune and any you see in a store will generally be several hundred dollars for anything over 4 feet tall. Here is a 6 foot tall cat tree (the higher the better to make efficient use of space in your home and give you cat more room) that is much cheaper than any others I have found. My cats hang out in this every day and use the scratching posts. It is positioned so they can sit on top and look out the window which they love. My scared boy is always happy on top of his cat tree. It is his happy place.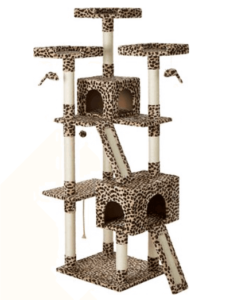 You can read my review of this cat tree here. Affordable, tall cat tree.
You can also provide other safe spaces such as cat dens, cat tunnels, covered cat beds, anything that is dark and enclosed that makes them feel safe. Position these in a corner or against a wall, or perhaps under a table or somewhere secluded. This will make them feel safer and more at home.
Finally, make sure you are patient and calm no matter what. Don't play extremely loud music, don't yell. Arguments are very stressful to cats that have been traumatized. They need a calm environment.
If your cat just needs a little help, these drops and collars may be all they need. It can take a long time for a cat to come around that has been traumatized. It may be a year or more! At some point you will have a breakthrough and suddenly they will feel more secure. They may come out of hiding or nuzzle your hand or purr when you pet them. They may decide they like to sleep on you. It feels amazing to make this progress. It takes patience but with the right products to help them and time, they will come around!
All of our cats decided to sleep on the bed with us from day one. Even if they hid under the bed during the day. Our boy who misbehaved still struggles if he runs out of the drops or collars (so we make sure never to run out), but he is so sweet now! He is affectionate and purrs and loves love. All three cats are fully integrated into the family now. They all feel secure and comfortable and are not scared.
I hope these suggestions help you with your kitties. Please let me know if you have used these to calm down a cat!
If you have any thoughts or questions please leave me a comment below!
Jessica
I am not a veterinarian and this is not veterinary advice. Always consult with a veterinarian first before self treating your pet. 
Thriving Cat makes use of affiliate relationships with merchants such as Jackson Galaxy, PetCo and Amazon Associates for monetization. This means when you click on links to various merchants on this site and make a purchase, this can result in a small commission that is credited to this site.