Best Rated Cat Trees For Large Cats
It is hard to find a sturdy, useful cat tree for large cats that isn't flimsy. Cat trees in pet stores like PetSmart and PetCo are very expensive even if they are only 3 feet tall and they do not appear to be made for very large cats. Here are the best rated cat trees for large cats that are truly worth the money. The first is the most expensive and has the largest beds. The second tree is a little less but has padded beds. The last option is a steal and the one I have for my own cats! It is stable and very tall but does not have the cushy, padded beds or extra large beds of the other two.
First off, here is a truly stately and sturdy cat tree that will be comfortable for your large cats. It is the Frisco 65 inch Real Carpet Wooden Cat Tree and Condo. It has three tall platform beds that are about 17 inches across and 4 inches deep! The large, platform bed on the bottom is a whopping 22 inches across and 4 inches deep! It has 96% perfect reviews on Chewy.com and 98% of customers would recommend it!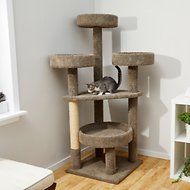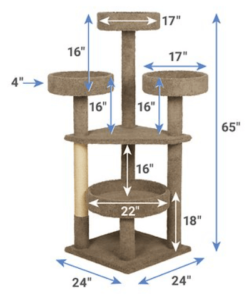 The beds and middle perch are 18, 34, 50 and 65 inches up off the floor. The total dimensions of the cat tree are 24X24X65 inches.
This Frisco 65 inch Cat Tree weighs 75 pounds and has a very large base, so there is no way even the largest cats could tip it over.
Pros of the Frisco 65 inch Real Carpet Wooden Cat Tree:
It is very heavy and sturdy, it won't tip over even with large cats playing.
It is truly made for large cats unlike most cat trees.
It is sturdy so it will last and you won't need to buy a new cat tree every year.
The  large beds are round so they are more comfortable than square cat tree boxes.
The 4 inch sides on the beds help cradle your cat and let him sleep soundly without falling off as happens on flat platforms.
This is a great cat tree for less than you would pay at a regular store for a tree one half to one quarter the size that is not made for large cats.
Customers say it is easy to assemble and goes together quickly.
The sisal rope on one post is sure to get lots of use as a scratching post as sisal is the most preferred scratching material for cats.
This cat tree looks good. It is so much more stately than regular dinky trees.
Cons:
This is not the cheapest cat tree on the market but you get what you pay for and this tree will last for many years to come.
There is only one post with sisal rope for scratching. If you have lots of cats that scratch you may need an extra scratching post eventually.
This is a very heavy cat tree at 75 pounds. That may be a good or bad thing depending on your needs. The weight will make it very stable however.
There are no toys built into this tree but my cats use their tree for sleeping or watching birds out the window not for toys. They play on their tree but they are chasing each other up and down.
Lower Price, Padded Beds on the Frisco 61 Inch Faux Fur Cat Tree and Condo
This cat tree looks delightful for big cats with squishy padded beds that are large enough to accommodate most cats. This large cat tree is sturdy and has an amazing price.  The beds and condo box are all 14.5 inches by 14.5 inches. The box openings are 10 inches tall. The smaller, round box is 13 inches across and opening is 9 inches tall.  The entire unit weighs 55 pounds. Click on the picture or links here to see image with dimensions.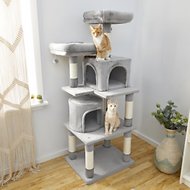 Frisco 61 inch Faux Fur Cat Tree
Pros:
Large padded beds with bolstered sides for maximum comfort.
Bed covers are removable and machine washable.
Sturdy for large cats.
Great price for a plush, padded cat tree.
Multiple (8) sisal wrapped scratching posts.
Wall anchor and strap included but not needed.
Cons:
Not as tall as other trees.
Beds and boxes are not huge but still large enough for most cats.
Does not come in a wide range of colors.
No attached toys.
If You Want a Cheaper Cat Tree That is Very Tall, With 10,000 Reviews, Try this Frisco 72 Inch Cat Tree That My Cats Love!
Here is a very tall cat tree that is still sturdy and will hold up to large cats but doesn't have the massive size beds as the 65 inch cat tree above.
It is very affordable and has an unbelievable 10,667 reviews on Chewy.com with 90% perfect 5 out of 5 stars. Click on picture or links below to see image with dimensions and other colors available such as blue, grey, black, brown and cream.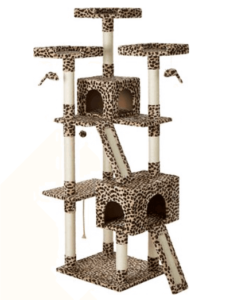 Take a look at the Frisco 72 Inch Cat Tree for an amazing low price or check out my review here.
My boy is over 16 pounds and he sleeps on the beds and in the lower box. I recommend the Frisco 65 inch tree at the top of this review for massive cats but this 72 inch tree handles my 4 cats including one that is 14 and one that is 16 pounds.
Dimensions for the 72 Inch Frisco Cat Tree: Perch Beds are 13 inches across. Large box condo is 19.5X12.2 inches and 11.6 inches tall. The smaller box is 12X12 and 9 inches tall. Base of cat tree is 23.2X21.3 inches.
The entire cat tree is 27X39X72 inches and weighs 63 pounds.
Pros:
The Frisco 72 inch Cat Tree is very tall. This is taller than most other cat trees you will find.
This Cat Tree is very affordable and a way better deal than you can find in stores.
This holds up to large and rambunctious cats. It is stable and weighs 63 pounds.
All posts are sisal wrapped scratching posts. That is 10 built in scratching posts. You will never have to buy another scratching post until you get a whole new cat tree.
Dangling toys for kittens and playful cats to enjoy.
Ramps make it easier for kittens to get up on the cat tree.
Cons:
This tree does not have monster size platforms but large enough to accommodate a 16 plus pound cat.
The perches and boxes are covered in the faux fur but do not have padding.
Padding is not removable for washing.
I hope you got some inspiration for large cat trees here. There are many options that are shorter, taller (bracing against the ceiling) and every other shape and size you can imagine. I suggest clicking on one of the links above and checking out the massive selection at Chewy. I specifically like the Frisco line of cat trees including these top picks reviewed here.
Jessica
Thriving Cat makes use of affiliate relationships with merchants such as Chewy.com for monetization. This means when you click on links to various merchants on this site and make a purchase, this can result in a small commission that is credited to this site. This does not affect purchase price and you will not pay a penny more.
If you have any thoughts or questions please leave a comment below and I will respond.