DOES YOUR CAT PEE OUTSIDE THE BOX?
There are easy solutions for cats peeing outside the box. If your cat is checked out by a vet and there is nothing wrong physically, then try these products I use to solve all my cat peeing issues. First of all there are several lines of pheromone mimicking products that use scent to make your cat feel safe and content. When they feel content, cats usually won't pee inappropriately. There can also be common medical reasons for this behavior such as a UTI. Test your cat's urine simply and affordably with this litter additive that indicates changes in pH. If it turns color to indicate pH is too low or too high, schedule a vet appointment. Please read my quick review of the Cat UTI Home Test here. For less than $10 you can have peace of mind knowing if your cat needs to go to the vet. Cat UTI Home Test.

MY TOP RECOMMENDED PRODUCTS:
My top recommendation to keep cats feeling content is a tie between two products. I use them both simultaneously for my problem cat and he is now a dream. He is sweet, happy, content and doesn't pee anywhere outside the box!
SENTRY brand Calming Collar for Cats
Available in a 3 pack for best price.
Sentry and other brands make disposable collars for cats that have a scent that mimics the pheromones of a mother cat. The scent makes the cat feel safe and happy. They will stop or greatly reduce inappropriate peeing outside the box and will be less jumpy and skittish. This collar can also help calm a cat for travel, going to the vet, introducing a new pet or any other stressful situation. Unlike the more common pheromone diffuser products which we discuss later, the collars have many benefits. You only need a single collar on your cat. It goes everywhere with him so no need for multiple products throughout the house. This also means the collar is significantly cheaper than using the diffusers as a collar costs less than one diffuser and you would likely need  at least three diffusers in your home assuming it is small.
A word of caution however, make sure the collar is fitted properly. There is a danger of the collar getting stuck in the cat's mouth if it is too loose. If the cat tries to get it off, he may get his lower jaw under it then get it stuck in his mouth. This happened to my cat when I first got the collars! If he struggles to get it off it could cut his mouth and make it bleed. Make sure the collar is fitting but not too tight. I am not sure what the manufacturer recommends but I make sure I am able to fit several of fingers between the collar and my cat's neck. With a kitten I suppose this would be different.
Additional pros of the collar include the fact that you only have to keep track of one collar, not multiple diffusers so it is easier to swap it out on time and best of all, it seems to be more effective!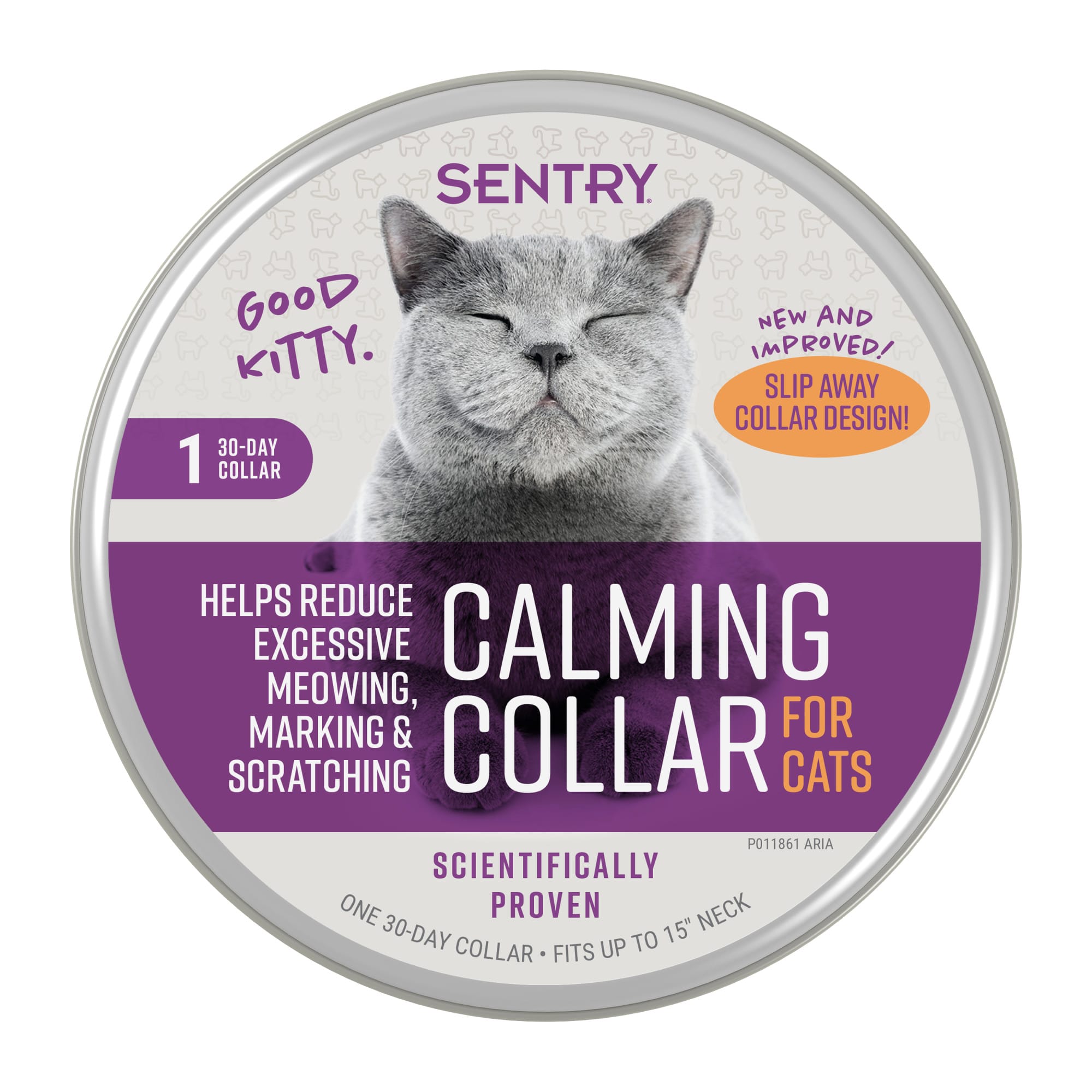 Spirit Essences brand Safe Space for Cats drops.
This is Jackson Galaxy's line of pet products.  The drops are applied to the cat's fur. You put the drops in your hand, then rub it on the cat's fur on his head, neck, chest or shoulders. The drops have very little smell (much more mild than the collar or diffuser so they might work better for someone sensitive to scent). They don't seem like they would do anything. It looks like just a few drops of water so it is hard to believe this will fix such an entrenched problem behavior. It works like magic! My cat has not peed outside the box since I started using these drops in conjunction with the pheromone collar. This has been about 6 months of success!
Note the bottle design has changed, but the product is the same.
There are yet more products out there that may work for your cat including over the counter liquid that gets mixed in food that doesn't taste as bad as the prescription medicine. These products worked somewhat for my cat, but the pheromone collar and Safe Space for Cats drops are the ones that are the most easy and effective for us. The label design has recently changed but the product and name "Safe Space for Cats" is the same. You can check it out on Jackson Galaxy's site here:
MOST COMMON PRODUCT: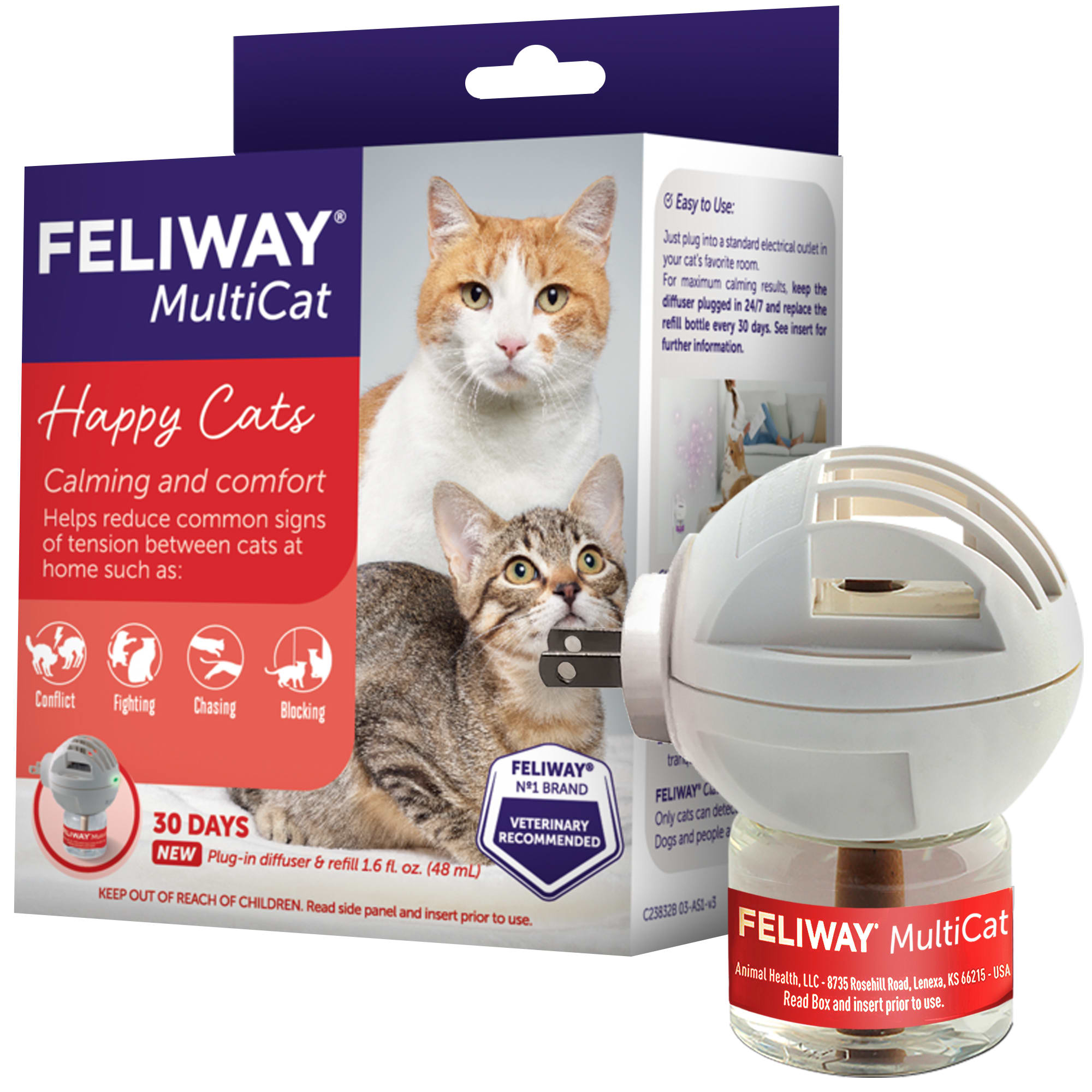 Feliway brand Calming Diffuser for Cats
The most common products in this category are plug-in diffusers. They look like a plug-in air freshener and work the same way. A bottle of liquid is heated and wafts through the room. This was the first such product I tried and it definitely has its pros and cons. Here they are,
Pros of plug in pheromone type diffusers:
Diffusers can have a calming effect on all the cats in your house at the same time, the more cats you have, the more cost effective this may be if you have multiple cats with anxiety.
Diffusers do help the situation and at first I thought they were great as my cat stopped peeing everywhere.
Some of them even smell good to humans like the lavender scented ones.
Cons of plug-in pheromone type diffusers:
They are only recommended to work in one room, so if you have a large house you could need a lot of diffusers.
If you need many diffusers throughout the house, this could get expensive.
The diffusers only last about a month so you need to stay on top of which ones are running low and change them quickly. As soon as they run out the cat may start peeing on things again. Some people say this happens even when they are low on liquid before it runs out.
Diffusers may on rare occasions (I have seen it happen myself) overheat and smoke! This could be a fire danger!
Finally, though they work great at the beginning, in my experience they aren't enough and after a few months they just don't seem to work as well. The peeing may start again if there aren't enough diffusers throughout the house. Note: I never had a diffuser in every room. If I did, they probably would have been sufficient but this was just way too expensive.
MY TOP RECOMMENDED PRODUCTS FOR CAT AND DOG HEALTH
If you are interested in a supplement line that will preserve your cat's (or dog's) health and save you money, check out Pet Alive Supplements here. My all time favorite supplement is from the Pet Alive brand: Revolutionary Supplement That Keeps Cat and Dog Teeth Clean.
Please leave any comments or questions below!
Jessica
https://thrivingcat.com
Thrivingcat.com is a participant in the Jackson Galaxy affiliate program and PetCo affiliate program designed to provide a means for sites to earn a small commission by linking to store sites. You are not charged a higher price or any additional fees by purchasing through these links.