Whole Earth Grain Free Canned Cat Food
It is very hard to find a cat food with limited ingredients. Foods may appear to be chicken based if you look at the label but in the tiny printed ingredient list on the back you will likely find fish, tuna and other proteins. Most cat foods contain grains as well since they are cheap fillers. Corn and wheat are not natural foods for cats and they can cause allergies and sensitivities just like certain proteins. My boy is sensitive to tuna and it is hidden in many brands and varieties of cat food. I tried a ton of brands before finding Whole Earth Grain Free canned cat foods, but it is now our favorite.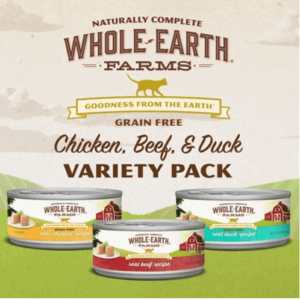 Whole Earth Canned Cat Food is Grain, Corn and Soy Free
Most lower end cat food brands have grain or meat by product meal as the first ingredient. Whole Earth Farms Grain Free Canned Cat Food has real meat as the first ingredient. Whole Earth Farms offers all grain free options. They also contain great nutritional supplements such as ground flaxseed and salmon oil. If you want a high quality canned cat food with real meat instead of by-products or grains you usually have to search for the highest end brands. All Whole Earth cat foods are grain, corn and soy free. These 5 varieties of their wet food are also pea free. 
Whole Earth Grain Free Canned Cat Food Works For My Cat With Food Sensitivities
Many cats have food allergies or intolerances. My boy certainly does and we have spent years trying to find the right foods for him. He is prone to having an upset stomach, throwing up, getting diarrhea and constipation! His veterinarians can never find a cause. It seems food sensitivities are to blame. We spent years giving him Miralax for constipation as well as 1/4 of a Pepcid for throwing up (vet approved). Note: you cannot give Pepcid Complete (chewable) or Pepcid Maximum Strength to cats. Those both contain ingredients cats can't have. Talk to your vet if you want to try giving regular Pepcid to your cat. Mine gets 1/4 of a tablet (the tablets are square so they are easy to cut into quarters). 
Whole Earth Grain Free Foods Work For My Boy's Digestion
Now that we have found Whole Earth Grain Free Canned food, my boy doesn't need Miralax anymore and needs less Pepcid as well! He is much better and it is such a relief! I can't tell you what will work for your cat but for mine he needs to have food that is grain free and does not have tuna. I am not sure yet about other types of fish but I know tuna makes him sick. Many foods just list "fish" or "ocean fish" so it is impossible to know if they contain tuna or if he could be sensitive to whatever mystery fish the food contains. So far he is fine with the beef and beef and turkey varieties. It is very, very hard to find a beef cat food at all and most contain chicken or fish along with the beef.  Your cat could be sensitive to chicken, eggs, or any other protein so I am not recommending the beef food for all food sensitivities.
Whole Earth Beef food contains chicken ingredients and salmon oil so this is not a single protein food. Single protein foods are used when diagnosing food allergies and sensitivities in order to rule out specific protein allergies. While these are not single protein foods they still work for my sensitive boy.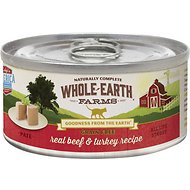 My Cats all Love Whole Earth Canned Cat Foods
My cats all love Whole Earth brand canned cat foods. I have two boys and two girls. Two are long haired, two are short haired. One is very sensitive to foods, two are picky eaters. This food makes them all happy. With 4 cats, finding the right canned cat food can be difficult. I am so glad I found Whole Earth brand foods since they high quality and have varieties that actually work to prevent throwing up and diarrhea.
Whole Earth Grain Free Canned Cat Food Can Be Shipped To Your Door
You can find Whole Earth Grain Free canned cat food in some pet food stores but they may be in limited supply. I recommend ordering it online since it is not a super common brand. It may also be cheaper online as well. See the whole line of Whole Earth cat foods including wet, dry and kitten foods from Chewy.com here.
Thriving Cat makes use of affiliate relationships with merchants such as Chewy.com for monetization. This means when you click on links to various merchants on this site and make a purchase, this can result in a small commission that is credited to this site. This does not affect purchase price and you will not pay a penny more.
If you have any thoughts or questions please leave a comment below and I will respond!
Jessica