Sentry Calming Collar for Cats Review
Could  your cat use assistance for anxiety?
If your cat is anxious, jumps at every sound, or pees around the house, they probably have anxiety issues. This is very common in cats that have come from a rescue situation or have been abandoned. They will be scared and timid or possibly defensive and territorial. These can all be affects of anxiety. Helping calm this anxiety can help your cat feel safe, content and truly at home in your home. It can also help multiple cats get along better. If you have any interest in a product to make your cat feel safe and content please check out this Sentry Calming Collar for Cats review.
What are pheromone mimicking products?
Sentry brand makes a line of pheromone mimicking products that help dogs and cats feel content and safe. Pheromones are scents that we as humans cannot smell. The pheromones in the Sentry products mimic this "scent" of a mother cat which makes kittens feel safe. Sentry makes diffusers which we tried first, as well as sprays and collars. If you have multiple cats it might make sense to use the diffusers, however I found they were much more expensive than the collars especially since only one of our cats needed the assistance. The diffusers can also be a bit difficult to use since you are supposed to have one in each room of the house! They only last about 3 weeks or maybe a month so we had to replace the oil constantly. They have also been reported to smoke which brings up the possibility of them catching something on fire!
Sentry Calming Collars
For these reasons I switched to the Sentry Calming Collars. They have worked better than the diffusers for me. They are available in a multi-pack from Amazon so the price is very reasonable.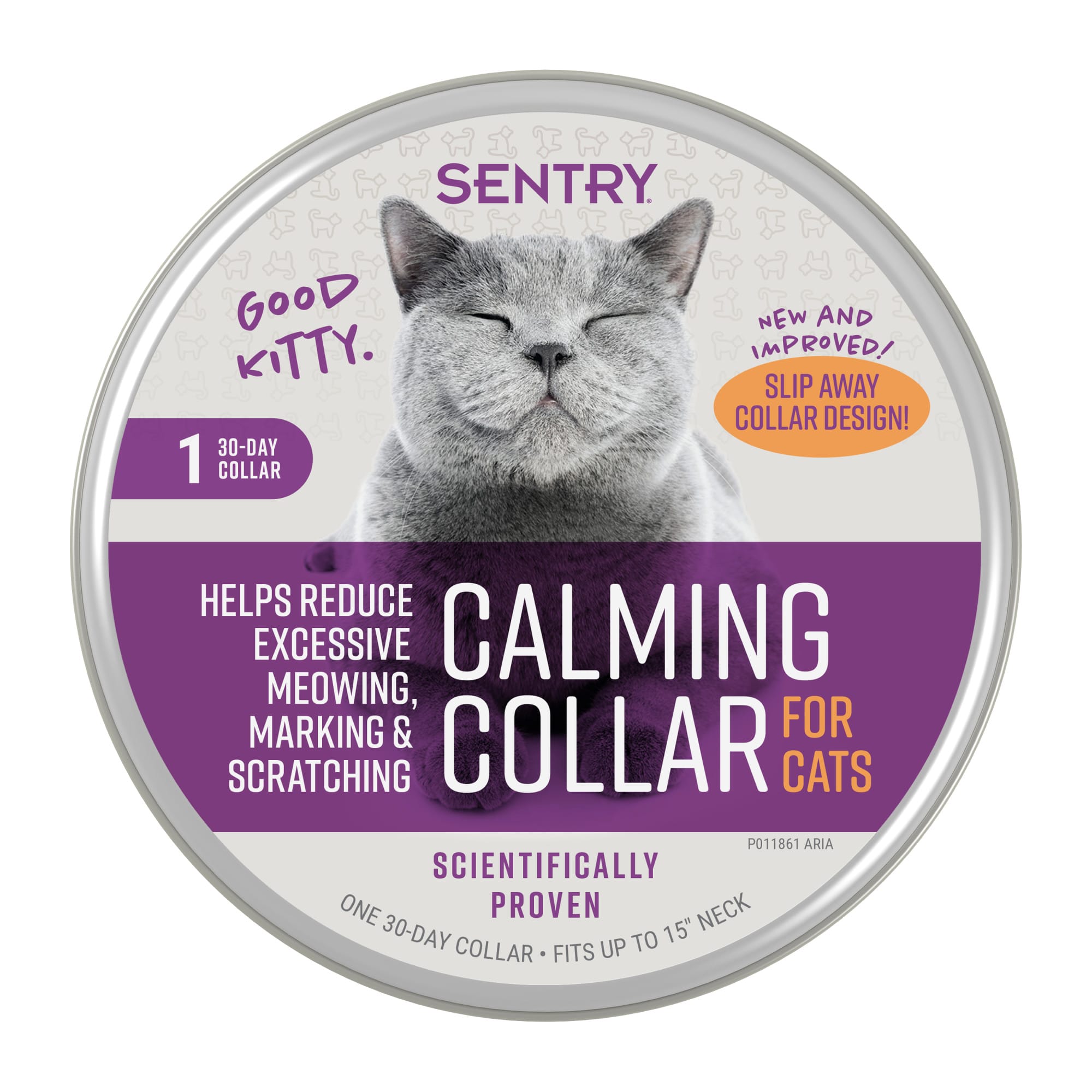 They need to be replaced about every 3 weeks. When a collar gets old and the scent starts to wear off, my boy starts to get jumpy again. He acts annoyed and skittish and we know it is time to replace his collar. Replacing it can be a bit of a challenge since he gets annoyed but once it is on he acts like it isn't even there. He never scratches at it or seems to care that he has it on.
NOTE: Make sure the collar is adjusted correctly. Of course you don't want it to be too tight, however it also cannot be too loose. If your cat can get his lower jaw under it, it could get stuck in his mouth! The hard plastic could cut your cat's mouth. I read of this happening to someone and the first time I used one of these collars I realized I had it on too lose. You should be able to get several of your fingers under it comfortably (depending on the size of your cat and your fingers!) but your cat should not be able to get it into his mouth!
You will have to cut the excess length off the end of the collar with scissors after you get it adjusted. It is very long so unless you have an exceptionally large cat it will probably be too long.
How They Work
I am very happy with the collars. My cat doesn't mind them, they don't seem to irritate his skin and they work. He needs these collars to function as a "normal" cat! He also needs the drops I explain below.
The collars have scent called "lavender chamomile". This is quite strong at first but mellows out after a few days. There is a powder residue on the collars when you first open the bag and take them out. This is normal and can just be ignored. You can also brush the excess off over a garbage can if you don't want it around.
The Other Product My boy Needs to be Calm
Safe Space for Cats Drops by Jackson Galaxy
I also use Spirit Essences brand Safe Space for Cats drops for extra assistance as my boy was really a basket case on his own. With the collars and the drops he is little Mr. Perfect. He is gentleman who follows me around, keeps me company everywhere, stays calm, likes to be picked up and cuddled, interacts well with my other two cats, but still has the energy to be a young cat and run around and play! This product does not drug your cat or make them tired all the time!
Make Sure it Isn't a Medical Problem
If you have any doubt that your cat may need to see a vet for a medical condition like a UTI, don't wait! These problems can be very serious. If your cat seems healthy and you just want to check to make sure, check out this amazing litter additive that changes colors to indicate urinary health problems. I used it periodically to make sure my cats are healthy. I use a little bit on a puddle if they pee outside the box so a bag will last me all year or longer. Super fast, affordable and easy to use and amazing value for the peace of mind it provides.

Thank you for checking out this Sentry Calming Collar for Cats review and please let me know if you have any questions or comments!
Jessica
Please note: I am not a veterinarian. Nothing in this post constitutes medical advice. Always see a veterinarian before starting a new diet or attempting to diagnose any medical condition.
Thriving Cat makes use of affiliate relationships with merchants such as Jackson Galaxy, PetCo and Amazon for monetization. This means when you click on links to various merchants on this site and make a purchase, this can result in a small commission that is credited to this site. This does not affect purchase price and you will not pay a penny more.
Please leave any thoughts or questions in a comment below! I would love to hear from you.