Do you have a big cat and need a large cat tree?
Cat trees for large cats can be great for exercise, security for the cat to feel safe and entertainment for your cat. Most are extremely expensive however and many are poorly constructed. If you want to find cat trees for large cats that are affordable and sturdy, I can help.
My top recommendation
The Frisco 72 Inch Cat Tree and Condo is 6 feet tall with three towers and two kitty condo boxes. It has two ladders and two mouse toys attached.  Reviewers say these last a very long time and give the cat tree high marks overall. The 4,795 reviews on Amazon are what made me choose it. I ordered this cat tree when we recently moved in order to give my three cats some vertical space in a smaller home. I wanted a very tall cat tree that was sturdy and had enough room for all three of my 15 and 16 pound cats. This model had a fairly compact footprint that was both sturdy enough to support the height due to 4 legs and also gave my cats a variety of options for sleeping, climbing and scratching. All vertical legs are wrapped in sisal rope to provide a total of 10 scratching posts.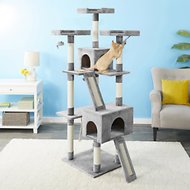 My cats all love this cat tree. I bought it for the following reasons:
It is tall (6 feet, or 72 inches)
It had over 4,000 reviews on Amazon.com with an average 4.5 out of 5 star rating. This was a very high percentage of high reviews.
It was reviewed to be sturdy and hold up to large cats.
It has three towers, one for each of my cats so there don't need to be any arguments over who is on top!
It was much more affordable than tall cat trees in stores and more affordable than most similar sized cat trees online as well.
It has rope wrapped legs instead of carpeted. My cats and most cats I know need rope for scratching posts, not carpet.
This cat tree has proven to be stable, sturdy and popular with my cats. I was worried about getting one so tall since it seemed they could tip it all the way over. This is definitely not the case. I have not seen it tip even with all three cats running up and down. It is close to a corner however so I don't know if it was in the middle of a room and extremely large cats could climb up the back if it could somehow tip. I think that would be very difficult and certainly not possible where I have it set up.
Pros:
*Tall,
*Affordable,
*Sturdy,
*Doesn't tip over,
*Sisal rope wrapped legs provide 10 scratching posts,
*Three towers,
*Two cat box condos,
*All tower and box surfaces are carpeted,
*Two attached, dangling mouse toys,
*Two carpeted ladders which kittens could use to access cat tree without jumping.
Cons:
*No padding under the plush carpet on platforms (my cats don't seem to mind and sleep on them all the time),
*The ladders/ramps are very steep. My cats do not use the bottom one at all. We finally just removed them to save space. If you had kittens however, they could climb up the ladder to access the cat tree and it would be very effective.
*Dangling mouse toy closest to edge can bang against the wall if cats are actively playing with it and cat tree is close to a wall. Solutions: You could shorten the string, cut off the toy, or swap out the towers so the one with the mouse toy attached is further from a wall.
Overall, for the price I can't recommend a better cat tree.
Other options for large cat trees
The Frisco 65 Inch Real Carpet Cat Tree and Condo is not as tall as the 72 Inch Tree but it has much larger platforms for extra large cats. It has real carpet which holds up longer than the faux fur if your cat is a real scratcher. It does not have so many scratching posts like the 72 inch tree however. Like the Go Pet Club tree, it gets 96% perfect reviews on Chewy.com.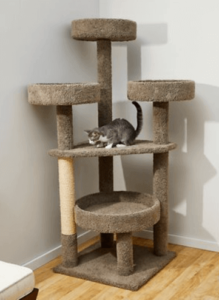 The Frisco 61 Inch Cat Tree and Condo is shorter but has nice, large beds with cushioned pads. These pads are also removable and can be machine washed! That is a huge plus. If your cat is old or needs cushioning this is the cat tree for you!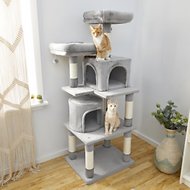 If you are looking for cat trees for large cats I hope you can find one here. Let me know if you get one of these great deals in cat trees and how your cats like them! If you are interested in my top recommendation for dry cat food that is extremely nutritious but still affordable, please check out my review here! If you want a great cat litter, may I recommend this?
Jessica
Thriving Cat makes use of affiliate relationships with merchants for monetization. This means when you click on links to various merchants on this site and make a purchase, this can result in a small commission that is credited to this site. Some affiliate programs and affiliations include, but are not limited to, Amazon Associates, Clickbank, and ShareaSale. You will not pay a penny more for purchases through this site.