Purina Beyond Grain Free Indoor Cat Food
Real Fish or Meat is Always The First Ingredient in Purina Beyond Grain Free Cat Food
Purina Beyond Grain Free Indoor cat food is a pleasant surprise. Salmon is the first ingredient. That is shocking since generally only the highest priced pet foods have real meat or fish as the first ingredient. Most cat and dog foods have some form of meat by-product meal as the first ingredient or even a flour or starch filler. Many cat and dog foods don't have any whole meat or fish at all. Real meat or fish is much better for your pet but also more expensive to obtain. It is great to have an accessible brand of cat food made with real protein. There are Purina Beyond Grain Free Indoor varieties with real salmon,  chicken, tuna, char and whitefish as the first ingredient.
Purina Beyond is High Fiber Cat Food For Digestive Health
A cat's natural diet would have a high amount of fiber since they munch on grass and plants outside and eat whole animals including the fur. This fiber helps cats prevent constipation and fiber is also critical for the support of healthy bacteria in the gut. This is true for people and animals. We need good bacteria to survive and that bacteria needs fiber to survive. These are some of the reasons a high fiber diet may be healthy for your cat. There are some specific health problems that can make a lower fiber diet necessary so it is always to good to check with your vet.
One of my cats has always had digestive problems. He is prone to both constipation and vomiting. Purina Beyond Salmon Cat Food has made a huge difference for him. He is not throwing up every day now! It is wonderful. I am so happy with this food I can recommend it wholeheartedly. I previously fed my cats a more expensive brand of grain free cat food but I found out it could have high levels of heavy metals. My boy was throwing up every day as well. It is hard to find food that works for all 4 of my cats with different needs but Purina Beyond Salmon Cat Food works well for all of them.
Purina Beyond Grain Free Indoor is High Protein and Balanced for Cat's Special Diet Needs
Cats don't need carbs, they need protein. A natural cat diet is mostly whole animals and birds with a few fresh plants. A cat's natural diet should have high protein. This can't be confused with all protein however. You can't just feed your cat meat like you would eat. People eat mostly muscle meat which is high in protein but does not have all the fat, fur, and nutrients found in whole animals. Making a raw cat diet is not as easy as giving cats meat that you would eat. They also need organ meats, and added nutrients like taurine. Dogs do not have this same need for taurine and so it is easier for dogs to eat human food scraps. Dogs are able to eat a wider range of foods and are not obligate carnivores like cats.
Indoor Cats are Totally Dependent on the Diet You Provide For Their Health
Outside cats can eat plants, rodents, birds, insects and whatever they can find. Living outside is dangerous for our pets in modern society but living inside means their diet is very restricted and unnatural. You can give your cat the best of both worlds with a safe, indoor life and high quality food with real ingredients. Cheap cat foods usually have corn or meat by-product meal as the first ingredient. Many cat foods are full of cheap fillers such as grain that cat's don't need and that can cause serious health problems. Their bodies are just not made to digest grain. Purina Beyond Grain Free Indoor cat foods have real meat or fish as the first ingredient which means there is more of that ingredient in the food than anything else.
Some plant ingredients can be potentially beneficial for cats such as cranberry which is in the Salmon, Egg and Sweet Potato variety of Purina Beyond. Cranberry is especially useful for for preventing urinary tract infections (UTI's). UTI's are especially dangerous for male cats as they can cause bladder stones (crystals in the urine). A friend of mine just lost her young male cat to a UTI and crystals in the urine a few days after emergency surgery was performed to fix it. If cats get a blockage of crystals caused by a UTI it can become deadly in just hours. There are different theories if cranberry is useful or not for preventing UTI's however. Cranberry helps with potential UTI's caused by e-coli but there are other causes of UTI's in cats including stress.
Cats now live almost twice as long as they did just a generation ago in the 1980's when the average cat only lived to be 7 years old. That is due to improved nutrition and health care. Don't cut your cat's life short with cheap cat food. Give your cat the best you can and assure they will have a healthier, longer and happier life.
What Are the Ingredients in Purina Beyond Grain Free Cat Food?
Here are some varieties of Purina Beyond Grain Free cat foods. All of them have real meat or fish as the first ingredient. They have a fish or meat meal as well but never contain by-product meal which should be avoided as it can contain dead or sick animals. You don't have to worry about by-product meal with any of the Purina Beyond varieties of food. These foods also have pea starch, pea protein and some other plant based ingredients such as cassava root flour and pea fiber. There are many theories about whether plant based ingredients are good for cats. Some claim cats should only eat meat based ingredients. Note: please don't feed your cat straight meat a their only source of food. In the wild cats would eat whole animals that include organs, fur, bone and stomach contents that contain plant matter. Cat also eat insects and some plants. Straight meat that people eat is generally muscle meat. Muscle eat alone will not support a cat's nutritional needs. They need extra supplements such as taurine which are added to cat food. They also need extra vitamins that would be contained in organ meats such as brain and liver. Raw food diets are great for cats but do not attempt them on your own without proper training.
Purina Beyond Indoor Grain Free with Salmon, Egg and Sweet Potato Recipe. This food has real salmon as the first ingredient and also includes sweet potato, egg and cranberry.
Purina Beyond Grain Free White Meat Chicken and Egg Recipe. This food has real chicken as the first ingredient and also includes egg and carrot.
Purina Beyond Grain Free Ocean Whitefish and Egg Recipe. This food has real ocean whitefish as the first ingredient and also includes egg and sweet potato.
Pros and Cons of Purina Beyond Grain Free Cat Foods
Pros:
Availability: Easy to find this brand in stores even grocery stores carry it now. It is important to find a food that you can feed consistently. I recommend ordering it online since it is cheaper that way but if you run out you can buy it locally (in the U.S. at least, I am not sure about other countries).
Good for many cats with allergies: This food is gluten free, grain free, artificial color and flavor free. This variety of Purina Beyond has no poultry. Many cats are allergic to chicken. My boy is allergic to many foods and Purina Beyond is a food that works for him. It is interesting to note my boy is sensitive to tuna but does great on this salmon based food. All fish is not the same.
High Fiber: This helps with digestion and can help avoid constipation. Note that wet cat food is better than dry for digestion and preventing UTI's which are common and can be deadly for male cats especially. I feed my cats both wet and dry food to help them get the best of both.
High Protein: The protein in this variety is 33%.
Good Taste: My cats at least love the taste of this food.
Smaller, softer bits: My oldest cat swallows her dry food whole. She has good teeth but that is just how she does it. I wanted a dry food with smaller and softer pieces for this reason. This food is probably softer because it has a higher moisture content than most dry food.
Free of many allergens and low quality ingredients: No corn, wheat, soy, gluten, poultry by products, artificial colors, flavors or preservatives.
Multiple varieties in the Purina Beyond Line including:
Purina Beyond Simply
Purina Beyond Grain Free Indoor
Purina Beyond Wild
Bags are not paper so they are not subject to getting wet or getting ripped open by kitties or other pets.
Cons:
The bags are not resealable. This is a bit disappointing but we are paying for the food not the package I guess.
This is not the cheapest food but you get what you pay for.
This is dry cat food and wet food is generally healthier for cats if you have to choose one or the other. Wet food is expensive however. I feed my cats both dry and wet food so they can get the benefits of both I can afford a much higher quality dry food than wet so a compromise of both is the best option. The dry food has more nutrition but wet food has more moisture which is vital to prevent UTI's and potentially dangerous crystal build up and blockages.
The best mineral content for cat food includes a mix of calcium, potassium and magnesium. Magnesium used to be considered a cause of urinary crystals but now it is understood it is good when in the proper balance with the other minerals. Purina Beyond does not show any magnesium listed in the ingredients. It does show potassium and calcium amounts in the ingredients.
Nature's Variety Instinct Grain Free Cat Food, an Alternative to Purina Beyond
There is another food that contains a balance of all three minerals mentioned above (magnesium, potassium and calcium) as well as real meat as the first ingredient, no grains or gluten and is available at a similar price per pound as Purina Beyond. It is Nature's Variety brand Instinct food in Grain Free Real Chicken, Grain Free Real Duck and Grain Free Real Rabbit flavors.
Nature's Variety Instinct Grain Free food all have real meat as the first ingredient. They contain great ingredients including carrots, apples, cranberries, menhaden fish meal, white fish meal containing Pacific sole and Pacific rockfish.
This food is also higher in protein than Purina Beyond foods. Nature's Variety Instinct has 43% protein compared to the highest protein Beyond foods which have 38% protein and the other varieties of Beyond which have about 35% protein. Nature's Variety also has an Ultimate Protein version with 47% protein.
I will be trying this brand next in my search for the perfect cat food. Since it is a similar cost per pound as Purina Beyond, there is no reason not to try it except that all my cats are doing well on Purina Beyond Grain Free Salmon, Egg and Sweet Potato.
So far Nature's Variety looks like the best balance of good ingredients and fair price that I have found. It also contains no grain, gluten, corn, soy, artificial flavors or by-product meals. I will have to see how well my cats like it and how healthy they are on it however.
If you want to check out Instinct Grain Free, here it is on PetCo.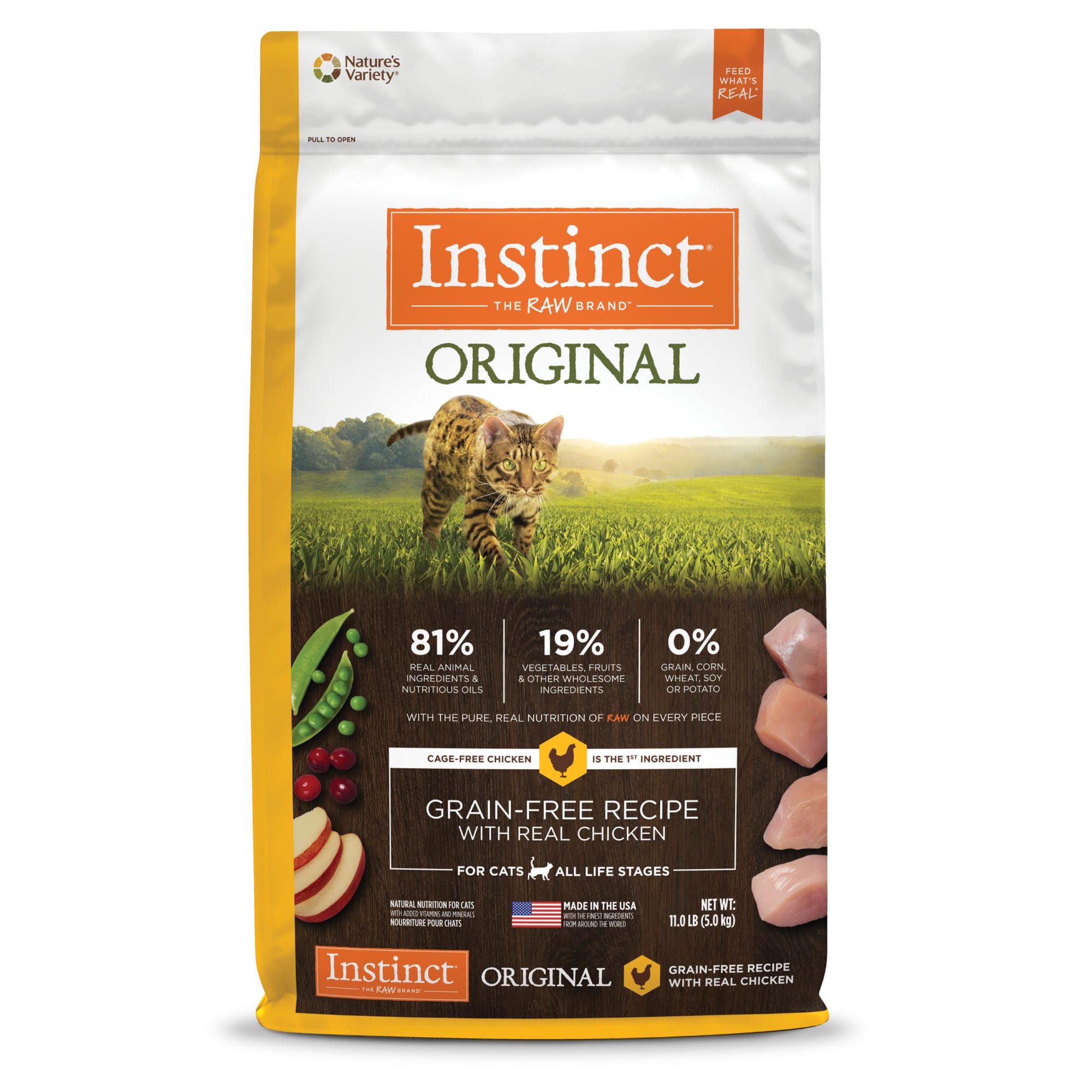 Is Wet Cat Food Healthier Than Dry?
There are some important reasons wet cat food may be healthier for cats than dry. These include:
Dry used to be considered better for cat's teeth but now it is understood that the starchy bits just get stuck in cat's teeth and contribute to tooth and gum disease anyway.
Dry food can contribute to UTI's in cats which can be deadly. This is because a natural diet for cats would always be wet. Cats eating dry food only often don't consume enough water. Lack of water and more concentrated minerals and certain elements of dry food can lead to crystals forming in urine. Blockages of crystals can be deadly especially for male cats who are neutered. You can help reduce the risk of UTI's and crystals by feeding wet as well as dry food and making sure your cat drinks plenty of water. For ideas how to get your cat to drink more check out my post here.
An all wet diet is great but wet food is often more expensive and also less practical since the food cannot be left out the way dry can. With an all wet food diet you need to put it out multiple times per day and wash the food bowls out as well.
That is why I feed both wet and dry. My cats can get a higher quality dry food that can be left out so they always have food available and also a wet food.
Any wet food is better than none but the very cheap brands have tons of wheat flour and other fillers.
Purina Beyond Grain Free Canned Cat Food in 19 Different Meat and Fish Flavors!
Purina Beyond Grain Free Canned Cat Food comes in Duck, Quail, Beef, Chicken, Turkey, Salmon, Herring, Tuna, Whitefish, Char, Shrimp, Catfish, Trout and more! The range of proteins is very impressive! Whatever meat or fish your cat can have (or needs to avoid) you should be able to find a Purina Beyond canned food that works.  Real meat or fish is always the first ingredient. Like their dry food, these have no gluten, no grain, no soy, no fish or meat by-product meal and no artificial flavors.
I have not seen such a lineup of grain free options in canned foods before. This first one is the turkey and sweet potato variety. This is a food that my sensitive boy can eat without getting sick which is great and hard to find!
Let Me Know What You Think!
I hope you can try Purina Beyond Grain Free or Nature's Variety Instinct Cat foods. Please let me know what you think of them and what your cats think too.
Leave any thoughts or questions in a comment below.
Please note: I am not a veterinarian. Nothing in this post constitutes medical advice. Always see a veterinarian before starting a new diet or attempting to diagnose any medical condition.
Jessica
https://thrivingcat.com
Thriving Cat makes use of affiliate relationships with merchants such as Jackson Galaxy for monetization. This means when you click on links to various merchants on this site and make a purchase, this can result in a small commission that is credited to this site. This does not affect purchase price and you will not pay a penny more.